Just north of Carson, Washington is a wandering gravel forestry trail called Panther Creek Road. It crosses the Pacific Crest Trail at one point, then goes steadily uphill for several miles through lush Oregon greenery.
About a month after their wedding, Erica and Jim drove up this road with me on a beautiful October morning. We listened to old country songs, Jim's particular favorite, and he sang along as we rode through the woods in his big truck. Erica and I chatted about being newly-married women (she got married a week after me), and all the fun we'd had at our weddings.
We reached a gravel pit turnout and pulled to a stop. Equipping ourselves in Gore-Tex jackets and hiking boots, we grabbed camera gear and a big duffel bag containing Erica's wedding gown before we headed down a tiny trail leading to the top of Panther Creek Falls. There's a viewing platform at the top, and gazing down at the small canyon of moss and water is always breathtaking.
Our plan was more ambitious, and we hopped down a side trail leading to a small rocky cliff. I tossed down my camera bags and, with a little help of rope, slithered down the rock wall after it. Erica and Jim followed with the duffel bag, and we poked down the steep, slippery hill to the base of the waterfall.
Erica changed into her dress and, after a few minutes of buttoning and rearranging crinoline, we started setting up for portraits. She walked over to the largest pool. For a moment, I caught my breath and couldn't move my fingers on my camera.
Look at her!
It's a real-life fairytale. An adventure that makes my inner woodland princess sing with excitement. Just look at her!
When I started as a photographer, my obsession with waterfalls and ethereal landscapes knew no limits. When I began photographing weddings, I started using that obsession to create pieces of art that were both remarkable landscapes and portraits. Erica adds an element of wonder to the picture--beauty in the forest, a princess, humanity and nature combining to make something entirely beautiful.
Ahhh.
Usually on a wedding day, there's no time for this. Making a point of getting out in your dress one more time before you get it cleaned, dreaming up a meaningful and gorgeous place, and having portraits like this? I can't say enough. It's magical. (Erica originally wanted to fully trash her dress and we didn't even have to.)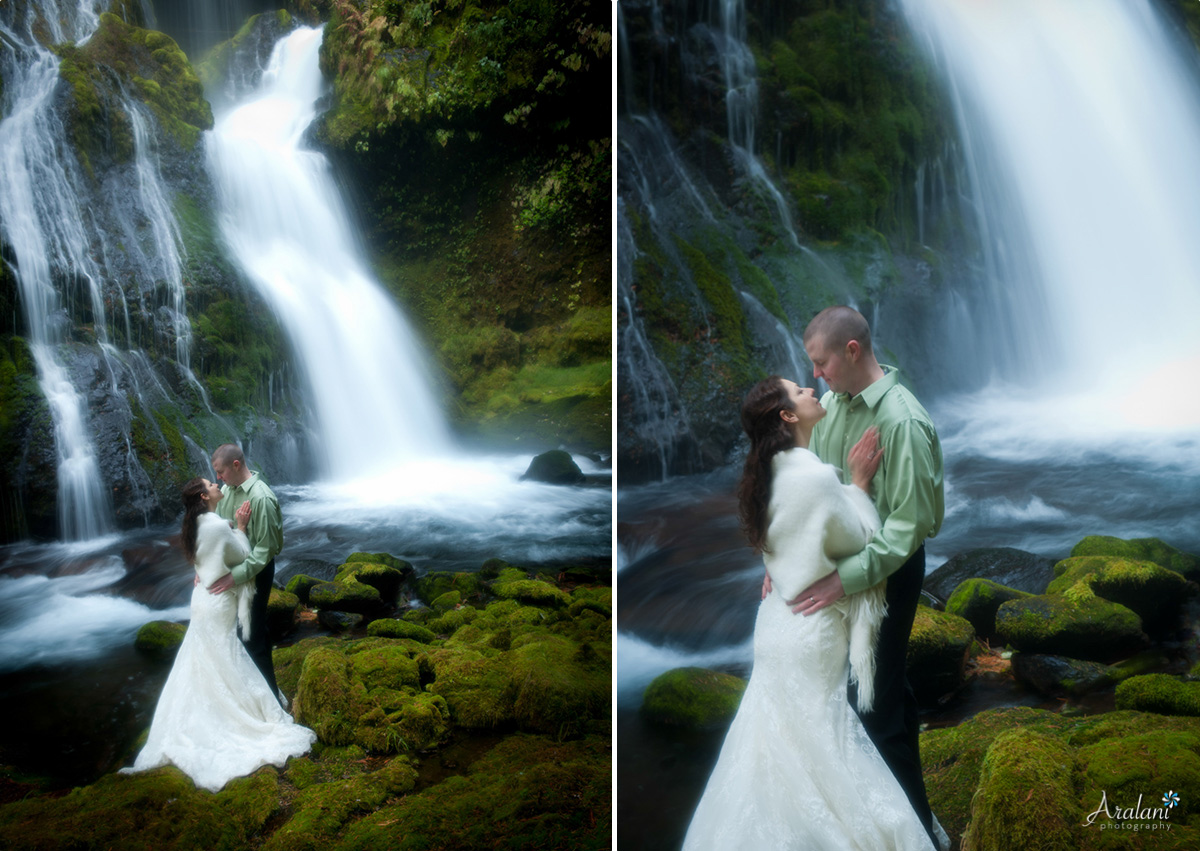 These images were taken at Panther Creek Falls, the Old Columbia Gorge Highway and Latourell Falls.